The results from this summer's Math Readiness Boot Camp are in, and they sure are encouraging. This year, I was part of a team of faculty and staff that received funding from the BSU Office of the Provost's inaugural Academic Innovation Fund to offer "Math Readiness Boot Camps" during the summer. The goal of these boot camps was to help students who didn't have placements into college credit-bearing math courses to refresh their math skills and re-test to advance their placement. And for three-quarters (29 of 39) of its participants this summer, it did just that. Not too shabby a batting average!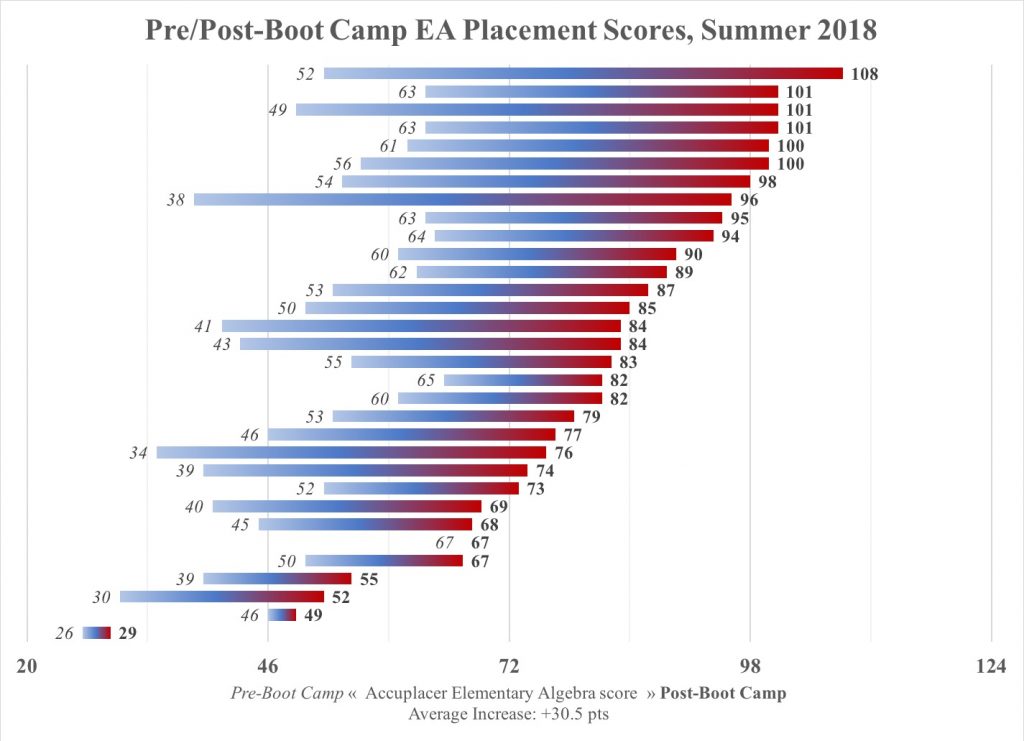 Our boot camps were intensive programs, delivered in eight 5-hour days on campus over two weeks. Grant funding made the program free to students and supported faculty, program staff, and food for participants. Two cohorts in June 2018 drew a mixture of incoming freshmen and continuing BSU students; a third in July was supported by BSU's Division of Student Success and Diversity, and targeted to incoming freshmen only.
The faculty and staff team developed a curriculum that focused on a return to the foundations of students' arithmetic and early algebra skills, with algebra ramping up significantly late in the program. In parallel, a peer tutor and graduate student academic coach worked with students on study and notetaking habits, math- and testing-anxiety, and acclimating to the work of the college classroom. Accuplacer Elementary Algebra re-testing on days 6 and 8 capped the experience and gave a clear exit measure of the program's effectiveness (since these placement scores were students' barriers to college-level math access when they enrolled in the boot camp).
The rising freshmen in this summer's boot camps benefited most from the experience: fully 100% of them advanced their placement to the college level. For continuing students, including post-traditional learners, the success was more mixed — due in large part to competition for their time and attention posed by the program's two-week intensive time frame.
All told, this summer's boot camp pilot helped enough students elevate their placement that it (in principle) spared one course section's worth of students from required developmental math this fall. Taken to scale, boot camps has potential to even more significantly mitigate the unreasonably high incidence of noncredit math course-taking at our institution. They're not the best solution for every student, but as one pellet in a "silver buckshot" solution, I'm hoping math boot camps have a bright future at Bridgewater.